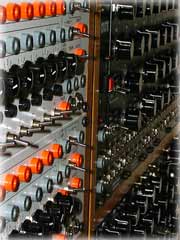 Builded with a mix of "official" kits and many other home designed modules.

Kits modules are Synthesis Technology MOTM and Sequencer + Quantiser white modules come from Analogic-ACS . So front panel format is 5U style with "Moog like" knobs...
For DIY modules described here, all pcbs are 100% home made. Front panel are made by Schaeffer in Germany, FPD files are provided for most of modules... I use Alco knobs, Spectrol, Bourns or Sfernice pots, Switchcraft jacks, but unlike most of MOTM users , all logic signals plugs are 4mm bananas ( gates,triggers, etc ...).

The power supply is +/-15Vdc, with MTA156 connectors.

Modules are enclosed in pinewood cabinets with PSU and MIDI plugs on the rear side.
DIY modules
Schematics & pcbs are my own designs or updated clones of vintage gears . Many were adapted to add extra features and widely tested/ trimmed to fit with MOTM standards ( +/-5Vpp signal. 1V/oct CV) . Note : some modules can contain "obsolete" or special components (SSM, opto cells,etc ...). You may not consider building those modules without a serious source for those special parts.