Here is the updated wiring diagram for the rev 1.1 board . Clic on the picture to view it full size...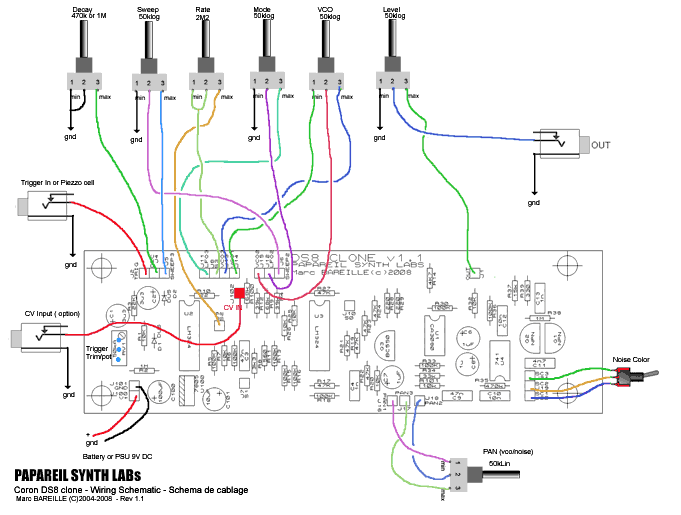 There is now a pad named J102 ( R100) . It is a CV input to modulate the VCO pitch by external voltage sources . An attenuator pot can be added to this input. Notice this CV input is not 1V/Oct but it will work fine with modulations between 0..5V . It is also advised to add an attenuator pot on this input ...

The noise generator is a very classic design with a pair of transistors. It is colored by a switchable 2 colors 1 opamp filter ( hi/lo)...It is simple to replace the switch by a rotative selector and a set caps of different values to get more "colors"...
The DS8 clone (prototype v1.0) at the end of assembly.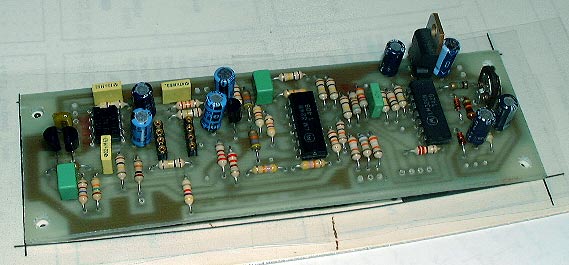 DS8 Builder's FAQ:
I often receive same questions about the DS8 construction so here are anwsers :

Q) What is R31 value ? What does 'NC' mean ?
A) R31 is marked as 'NC' ... NC mean = Not Connected ... forget this resistor ! Not used...

Q) What is R8 value ?
A) R8 value is 22k like the DS7 .

Q) The output level is low ... What can i do ?
A) The output level is sized to be around -10dBu nominal. To increase it : replace R30 ( 100k) by a 330k or 470k resistor . This should be enough for most of applications, including modular synthesizers patches ... Another solution: use a good preamp...



DS8 Sounds & video clips

As you can see, it sound similar to the DS7 buth with a noise generator ...


Here is the DS8 demo videoclip made by Djthomaswhite (UK) .

and another one with 6 x DS8 + mixer

Also search on You-Tube with the following keywords : 'Coron' , 'DS7' or 'DS8' for more video clips .
Please visit the DS7/8 Picture Gallery too!
Thanks to Heiko for the vintage DS8 pictures