This page contain all the informations to order pcbs, special parts or programmed PIC chips .
Please take the time to read it carefully...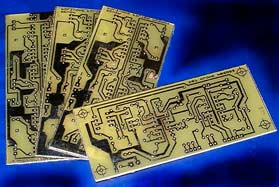 1) 'Made in FRANCE' pcbs
PCBs are single or double side FR4 ( 16/10 fiberglass-epoxy +35µ copper layer)

Stamed with hot solder machine and pre-drilled at 0.8mm.
Double sided pcbs are not fitted with metal through holes : you have to solder both sides.
All my double sided PCBs are optimised for this soldering method.


Pcbs are available all time. They are etched on order only, but sometime i have a little stock if you are lucky ...
The usual production delay is of one week. I etch pcb two days only at the end of the week . So If you send your order at the beginning of the week , say before Wenesday , you can be almost sure i will ship them for the next Monday /Tuesday ...


PCBs i sale are NOT home-etched pcbs !!! They are produced by a little factory with professional tools. The quality is FAR BETTER than what you can get by home-etching, even if the process we use is somewhere quite similar.


A Construction Manual is provided with each pcb. It usualy contain the part list, schematic, implant & wirings diagrams, technical explanations and setup procedure.
To save on shipping cost and when it is possible : i propose to send construction manuals by email in pdf format or put them on my FTP for a direct download.

'Made in France' pcbs list

Tools required : PIC programmer Oscilloscope
Quantix-8 pcb rev 1.1 + firmware PIC v1.44

The Quantix-8 pcb is a hi-quality, Gerber, RoHS, double sided with silkprint and metal holes. Size is 0.550 x 4.375 inches ( 11.2 x 14 cm). 100 % MOTM compatible.

Each Quantix-8 pcb rev1.1 is sold with a PIC chip pre-programmed with the Quantix-8 firmware rev1.44. and individualy tested.

Here are the 3 ' formulas'

Worldwide shipping by Priority Mail is included.

| | | | |
| --- | --- | --- | --- |
| Quantity | Set Price € | Shipping € | Total € |
| 1 | 48 | 4 | 52 |
| 2 | 46 | 8 | 100 |
| 4 | 46 | 8 | 192 |

If you prefear a more registered/tracked/insurred shipping method, contact me. But please be aware , it is also more expensive...Usualy ranged from 10 to 40 euros depending weigth, location , inssurance, etc ...



Shipping
| | | | |
| --- | --- | --- | --- |
| Location | up to 100g | up to 500g | up to 1kg |
| Worldwide | 4 € | 8 € | contact me |
This is most used shipping formula. It is a very good compromise between price, reliability and speed
However please be aware there is no insurance, no tracking: the package travel at your own risk.
No refund in case of looses or no delivery.


Registered/tracked or insured mail option is also possible.
The cost depend of your location , package weigth , inssurance and services attached to this shipping ...
Please call for a quote if you are interested by this option. I have many possible formulas under the hand.



Average delivery delay is generaly under 4 days for EU , and around one week for most of other destinations.
This depend a lot of the of your post office too. It they are good it goes fast ...

Payment

I accept bank wire transfert or Paypal to my email adress.

Pour la France metropolitaine uniquement , j'accepte le reglement par cheque banquaire ou virement.
All payment must be done in Euros € Please do not send any other currency !

If you agree with upper conditions, you can now contact me to order your pcbs.


Thanks to all customers and site supporters !